Time: 2021-07-09
The pulverizer is one of the indispensable equipment for non-metallic ore grinding processing in the powder industry. The pulverizer produced by Shanghai Joyal adopts the good structure of similar products at home and abroad, and is updated and improved on the basis of the traditional Raymond mill. This equipment is more efficient than ball mills, has lower power consumption, and has a small footprint. Small investment, widely used in barite, calcite, potash feldspar, talc, marble, limestone, dolomite, fluorite, lime, activated clay, activated carbon, bentonite, kaolin, cement, phosphate rock, gypsum, glass, thermal insulation Materials, etc., high-fine powder processing of more than 280 non-flammable and explosive materials with Mohs hardness not greater than 9.3 and humidity below 6%. It can turn a pile of rubble that was originally a ruin into a pile of stone dust that has doubled the price.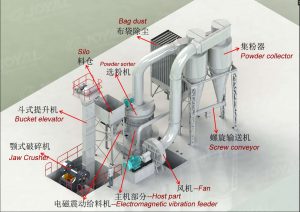 Let me introduce to you the Raymond mill from Shanghai Joyal:
1. Uniform particle size and good quality: The particle size of the material ground by this equipment is in a complete cube shape, and the particle size can be flexibly adjusted according to the needs. The screening rate is higher and the finished product particle size is more complete, which meets the ideal material requirements in the industrial field. .
2. Strong adaptability, safety and stability: The technical parameter design is reasonable and will not be affected by the characteristics of the material. It can grind various materials such as limestone, talc, fluorite, river pebble, bluestone, etc., even in harsh environments. It will affect the performance of the equipment, and the operation will be safer and more stable.
3. Good quality and long life: The main components are made of high-quality wear-resistant materials, with good toughness and robustness, low failure rate, reliable quality and durability, and the service life is more than twice that of ordinary grinding equipment.
Previous:
Shanghai Joyal analyzes the bentonite mill for you
Next:
Shanghai Joyal's 600 tons of limestone grinding production line per day is worthy of your own