Time: 2020-06-02
Speaking of gypsum powder, it is a material commonly used in industry, chemical industry, construction industry. The use of gypsum powder is too wide, and there are many types. In terms of physical properties, gypsum powder includes talc gypsum powder, Dolomite gypsum powder, fiber gypsum powder, etc., many ores can be ground into gypsum powder, different gypsum powder uses are also different, there are used in building materials, chemical, food and so on. It can be seen from this that the use of gypsum powder is wide, so different grinders are used to produce different gypsum powders, then do you know which grinders can be used to produce gypsum powder?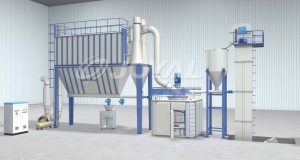 Under normal circumstances, the main mills used in the production of gypsum powder are: Raymond mill, three-ring mill, ultra-fine mill. What is the difference between these three mills? The particle size of the finished product of the Raymond mill is between 30-325 mesh, and it can grind more than 300 minerals with a humidity of less than 6%. The grinding effect is not bad. Our Raymond mill produced by Shanghai Joyal There are six models, and the output can be freely selected from 0.15 tons per hour to 5.2 tons per hour. The final particle size of the tricyclic powder milling material is between 325 and 2500 mesh. It can be seen that the tricyclic powder mill is finer than the material milled by the Raymond mill. The tricyclic powder mill of our factory has five different models and the output is from 0.4 Tons per hour to 30 tons per hour. The ultra-fine mill is mainly used for processing finer materials, and the processed materials are finer than other equipment.
Which kind of mill is used to produce gypsum powder depends mainly on your specific needs. If you have any questions about the mill, you can contact us through our website customer service for consultation.
Previous:
Will you solve the problem when the cement ball mill is in use?
Next:
Shanghai Joyal takes you to see the working site of 1-5 tons per hour ultrafine powder mill