Time: 2022-01-14
With the development of economy, energy and environment have become increasingly concerned issues. Energy conservation and emission reduction, building a resource-saving and environment-friendly society is one of the development goals of my country's economic construction. In our daily life and production, energy saving and environmental protection have become a good living habit recognized by each of us, and the machinery manufacturing industry must also take effective actions. In the ore grinding industry, the increasingly depleted mineral resources force us to pay more attention to energy conservation and environmental protection.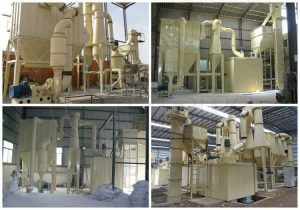 With the development of science and technology, various industries have higher and higher requirements for industrial powder particle size, and ordinary pulverizers can no longer meet the industry's requirements for ultra-fine powder particle size. However, some plastic industries, stone and paper industries, food and chemical industries require stone powder with a fineness of thousands of meshes. To this end, Liming Heavy Industry has developed a new type of ultra-fine pulverizer-HGM ring roller micro-powder mill, whose fineness can reach more than 3,000 meshes. And it can also adjust the production fineness of the ultrafine pulverizer at will according to the actual needs, so as to achieve the purpose of one machine for multiple purposes, which also reduces the economic investment for users. The feature that the fineness can be adjusted at will is also an energy-saving and environmentally friendly production method.
No matter what kind of material is produced by HGM ring roller micro-powder mill, it will achieve better effect, and the effect of powder will be more obvious in use. For example, it can be used to process steel slag to produce high-grade iron powder for iron making, and it can achieve the best results in the case of high-activity admixtures for cement and concrete. It can also be used for high-grade highway pavement steel slag asphalt concrete surface aggregate, with high availability, excellent effect, and saving a lot of costs.
Previous:
Do you maintain the Raymond mill? Shanghai Joyal teaches you a few tricks
Next:
Shanghai Joyal New Year's holiday notice wishes everyone a happy new year in advance