Time: 2021-04-28
This limestone mill production line produced by our Shanghai Joyal factory has been working here for four years. Its performance is still good, and its daily output is still about 200 tons. Customers are very satisfied with the mill produced by our factory. Our staff will help to solve the thorny problems encountered in the middle of the journey at the first time, which also saves a lot of worries. Some operations are not very good, and our staff will teach them by hand.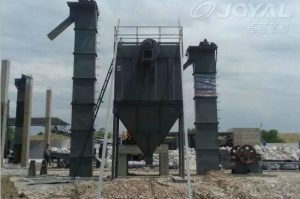 This limestone mill production line mainly includes ygm160 high-pressure suspension roller mill, which is suitable for mining, building materials, chemical industry, metallurgy and other industries. It can grind limestone, quartz, feldspar, barite, fluorite, dolomite, garnet, silicon carbide, bauxite, zircon sand, marble, calcite, iron ore, phosphate rock, coal, ceramics More than 400 kinds of non flammable and explosive materials, such as slag, whose Mohs hardness is not more than 9.3 and humidity is less than 6%, are grinded, and the particle size of finished products can be adjusted between 30-425 mesh.
If you have any problems in these aspects, please contact our staff of Shanghai Joyal, and we will help you solve them in time.
Previous:
What methods can improve the efficiency of ball mill
Next:
Why some people use ball mills with low work efficiency but high energy consumption