Time: 2020-06-10
As an important equipment for the production of stone powder raw materials, ultra-fine powder mills are very popular with customers in the industrial field. However, there are various types of mills on the market, and they are so diverse that they cannot distinguish what kind of mill is suitable for them. Trustworthy. Shanghai Joyal takes you to see the work of our ultra-fine mill at the customer's production site.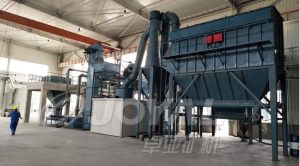 Now you can see that this set of ultra-fine mill production equipment has a production capacity of 1-5 tons per hour. It can grind limestone, gypsum, bentonite, feldspar, marble, dolomite, calcite, perlite, zeolite, etc. The feed size of this mill can not be greater than 20 mm, and the output of the stone powder can reach a particle size of 5 -20 microns. It can be seen from these data that this set of equipment is still very popular in the market. The superfine mill that the customer ordered has been in operation for five or six years, the performance is still very stable, and we are very satisfied with our milling equipment. Brought a lot of benefits to customers.
With the greater demand for stone powder in the market, customers who want to expand their production scale also want to order a set of milling equipment from our factory. Thank customers for their trust and support to our factory, we will provide customers with better quality milling equipment and more intimate service.
Previous:
Do you know which mills can be used to produce gypsum powder?