Time: 2020-12-29
Below you see the YGM160 high-pressure suspension roller mill currently being unloaded in El Salvador. Congratulations to the customer for successfully receiving the mill equipment from Shanghai Joyal, which will be installed and put into production soon. The customer ordered the YGM160YGM high-pressure suspension roller mill, which is mainly used to produce limestone powder and establish a limestone production line. YGM160YGM high-pressure suspension roller mill can not only grind limestone, but also grind more than 400 kinds of stones such as marble, barite, dolomite, etc. The finished product size can be adjusted between 0.613-0.033 mm, and the production capacity is 8-22 tons. per hour.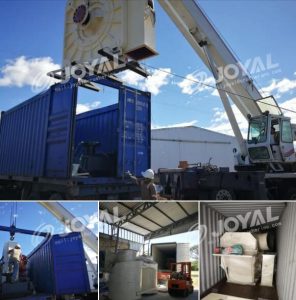 The working principle of YGM high-pressure suspension roller mill is similar to that of Raymond mill, but the grinding device is equipped with a high-pressure spring with a pressure of 1000-1500 kg. When the machine is working, under the action of high-pressure spring and centrifugal force, the grinding roller rolls close to the grinding ring. Its rolling pressure is 1.2 times higher than that of the Raymond mill under the same conditions, and the output can be increased by 20%-30%; After the grinding roller and grinding ring reach a certain amount of wear, adjust the length of the high-pressure spring to maintain a constant grinding pressure between the grinding roller and the grinding ring, thereby ensuring stable output and fineness.
In 2020, it will be over in a few days. Time flies. Especially this year, Shanghai Joyal has been sticking to it. Due to the impact of the epidemic, our factory has stopped production for several months, but we still receive many friends from far away. Information, you need to order machines. Thank you for your trust and support. As the new year 2021 is approaching, Shanghai Joyal wishes everyone good health and all the best.
Previous:
Daily maintenance and maintenance of superfine grinder and precautions for use
Next:
Congratulations on the successful receipt of limestone mill from Shanghai Joyal