Time: 2017-02-20
Energy-saving ball mill is the key equipment after the material is broken and then crushed. It is widely used in cement, silicate products, new building materials, refractories, fertilizers, black and nonferrous metal mineral processing and glass ceramics and other production industries, all kinds of ore and other grinding materials for dry or wet grinding.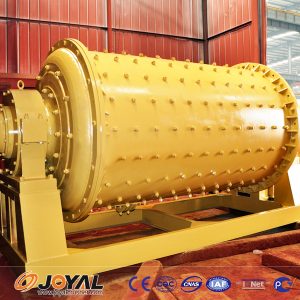 working principle of energy saving ball mill
The energy-saving ball mill for the horizontal cylindrical rotary device, external gear drive, two positions, lattice-type energy-saving ball mill. Material from the feeding device by the feed hollow shaft screw evenly into the first warehouse, the warehouse has a ladder liner or corrugated liner, built-in different specifications of the ball, the cylinder rotation to produce centrifugal force to the ball to a certain height After the fall, the material hit and grinding effect. Material in the first warehouse to reach rough grinding, the single compartment through the plate into the second warehouse, the warehouse is set with a flat liner, there are steel balls, the material further grinding. The powder is discharged through the discharge grate to complete the grinding operation.
Structural features of energy saving ball mill
Energy-saving ball mill from the feeding part, the Ministry of material, the Ministry of rotation, transmission (reducer, small transmission gear, motor, electronic control) and other major components. Hollow shaft with cast steel, lined with removable, rotary large gear with casting hobbing processing, the cylinder is set with wear-resistant liner, with good wear resistance. The machine is running smoothly, working reliably.
Highlights: Low energy consumption
Ball mill energy-saving reflected by the eight aspects.
1, ball mill start current low start time short start flexible. The normal working current decreased by 20% -30% to achieve the purpose of saving;
2, than the ordinary type of ball mill to reduce the power of the original motor to reduce the installed capacity to enhance the work efficiency to reduce reactive power loss;
3, make full use of surplus motor capacity and improve the liner structure can increase production 5% -7%;
4, the ball mill to change the bearing for the rolling bearing not only carrying capacity long life than the sliding bearing life can be improved by more than 5;
5, reduce the ball mill main bearing maintenance to improve the health environment without grease pollution phenomenon;
6, the ball mill with glycerol lubrication series to reduce the thin oil station facilities and motor power to reduce fuel savings in 80% -90%;
7, ball mill main bearing normal life of 8 – 13 years;
8, to reduce the ball mill due to sliding high temperature shutdown and the main bearing burner caused by the shutdown problem.
Shanghai Joyal Machinery Co., Ltd offers professional manufacturing the energy saving ball mill and other mine grinding mill,if you want to learn more information,welcome contact us.
Previous:
How to ensure the safety of spiral sand washing machine operators (b)
Next:
what time replace the parts of the spiral sand washing machine