Time: 2020-12-01
To grind 300 mesh mineral powder, you can use a Raymond mill. Raymond pulverizer is a mill equipment that focuses on non-metallic mineral powder. What manufacturer produces Raymond pulverizer? Shanghai Joyal is an experienced manufacturer that can provide 300 mesh Raymond mills according to customer needs, formulate professional selection and configuration plans, and help mineral powder production create value.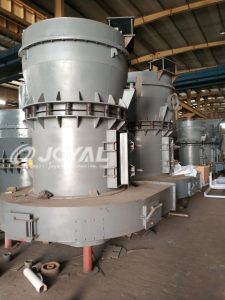 Raymond mill, can grind the fineness between 80-325 mesh, is professionally used to grind and process various non-metallic minerals with Mohs hardness below 7 and humidity below 6%. The Raymond pulverizer for mineral powder is the mainstream mill equipment, and it is also the renewal of the traditional pulverizer. Its performance indicators have been greatly improved. It is used in dolomite, gypsum, marble, limestone, talc, heavy Pulverizer equipment in the powder processing market such as spar.
For powder customers, the use of Raymond mills is ideal. This mill has high capacity and low energy consumption. It is a mill that helps powder processing projects create value. So how much is a Raymond mill production line? For equipment selection and price, specific issues need to be analyzed in detail. Shanghai Joyal needs to understand the grinding fineness, capacity, equipment installation area and other information to customize the exclusive selection and configuration plan to match the reasonable price of the mill.
Previous:
What are the common models of ball mills?
Next:
There are many types of limestone mills, how to choose?