Time: 2021-03-09
Congratulations to the customers that the Raymond Mill ordered in our factory has entered the installation stage. The workers are working hard to install it. The customer wants to use 3r2615 Raymond mill to grind limestone and produce putty powder. The grinding particle size is required to be between 100-200 mesh. The use of limestone powder with different particle size is also different.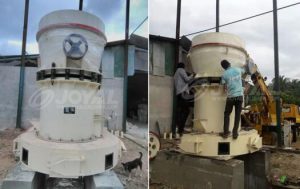 Shanghai Joyal recommends Raymond mill to customers, because the particle size of limestone can be adjusted from 80 mesh to 3000 mesh. It can grind not only limestone, but also many ores, such as calcite, barite, dolomite, potassium feldspar, marble, talc, gypsum, kaolin, bentonite, phosphate rock, manganese ore, iron ore, glass, ceramics, activated carbon, etc 3r2615 Raymond mill can produce 0.35-2.8 tons per hour, the maximum particle size of feed is 15 mm, and the particle size of finished product is between 0.613-0.044.
The working principle of 3r2615 Raymond mill is that after the materials to be processed enter the grinding chamber of the main machine, due to the centrifugal force when the main shaft rotates, the grinding roller swings outward and presses tightly on the grinding ring. The scraper will lift the materials and send them between the grinding roller and the grinding ring, so as to achieve the purpose of grinding and crushing with the rolling of the grinding roller. After the material is grinded, the powder is separated by the analyzer with the circulating air of the blower. The fine and coarse material falls back to the grinding chamber for regrinding. The qualified fine powder enters the cyclone collector with the air flow and is discharged through the powder outlet pipe to be the finished product. After passing through the cyclone dust collector, the air flows into the blower to form a closed-circuit circulation, so that the machine can work continuously and normally. The residual air enters the dust collector through the residual air pipe and is discharged out of the machine after purification.
There are six models of Raymond Mill in our factory, and the output is large and small, which can basically meet your needs. If you need to order our Raymond mill, you can contact us through our free hotline, or leave us a message on our platform. Our staff will contact you at the first time and look forward to cooperating with you for a win-win situation.
Previous:
Shanghai Joyal YGM160 high-pressure suspension roller mill sent to Georgia
Next:
Shanghai Joyal superfine grinding is the best choice for barite grinding