Time: 2021-01-13
Heavy calcium carbonate powder is the most used inorganic filler in building materials, papermaking, plastics, rubber, paint, coatings and other industries. At present, the market is in short supply, with large sales channels and low technical requirements. It has become the target of many small and medium-sized enterprises for production and investment. With the gradual increase in output, choosing appropriate processing equipment and technology is an important guarantee for the long-term development of the heavy calcium carbonate powder industry.
To produce high-quality heavy calcium carbonate powder, we must first pay attention to the selection of heavy calcium carbonate raw materials, and also need to choose appropriate heavy calcium processing equipment and technology. At present, my country's Raymond mills, high-pressure mills, vertical mills, etc. have achieved their economic benefits to a certain extent, but with the development of modernization, problems such as pollution, energy consumption, and efficiency will come at any time. Therefore, it is necessary to choose suitable equipment to realize the development of environmental protection economy.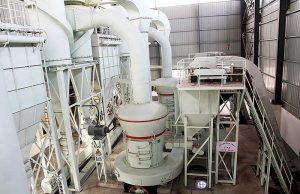 High-pressure Grinding Mill and other equipment produced by Shanghai Joyal can self-grind and choose. Through the frequency conversion high-efficiency powder separator, heavy calcium can be directly prepared without external screening or sorting. Due to the principle of winnowing, the heavy calcium powder that meets the finished product can be quickly blown out, completely avoiding the phenomenon of over-grinding, and greatly improving the output and production efficiency. At the same time, the advanced pulse dust collector is adopted, and the system meets the national environmental protection requirements. Processing 80-120 mesh, 200-400 mesh, 400-800 mesh, 800-1500 mesh, 1500-3000 mesh heavy calcium products.
Shanghai Joyal produces a variety of models and specifications of industrial milling production line equipment. If you want to know more about the configuration and price of the mill, you can directly consult online. Welcome new and old customers to visit!
Previous:
Congratulations on the successful receipt of limestone mill from Shanghai Joyal
Next:
Shanghai Joyal YGM95 high-pressure mill has been working at the customer's production site for many years