Time: 2021-01-20
Recently, our staff from Shanghai Joyal visited the production site of powder mills and stone powders of foreign customers. After cordial exchanges with them, we learned that the YGM95 mills purchased by our customers from Shanghai Joyal have already worked four times. Over the years, the production capacity is still very strong, and they are very satisfied with our milling equipment.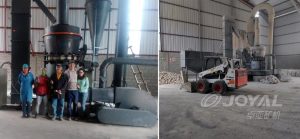 Our staff carefully inspected and maintained the whole set of mill equipment, and told them some precautions. A good milling equipment not only requires good quality of the machine, but also requires regular maintenance and care by people. Give play to its greater value and extend its service life. When the grinding roller and grinding ring reach a certain degree of wear, adjust the length of the high-pressure spring to maintain a constant grinding pressure between the grinding roller and the grinding ring, which can ensure stable output and fineness.
The output of this YGM95 high-pressure mill production line is about 1.1-5.6 tons per hour, and the finished product particle size can be adjusted between 0.613-0.033 mm. There are also many models of high-pressure mills in our Shanghai Joyal factory, which can also be customized according to customer needs. We look forward to cooperating with you for a win-win situation.
Previous:
Shanghai Joyal produces 600-3000 mesh heavy calcium carbonate grinding equipment
Next:
What kind of grinding equipment is suitable for grinding feldspar