Time: 2022-03-04
A customer from Shandong came to our Shanghai Joyal factory to order a sand making machine production line of 150 tons per hour for iron ore production. The whole set of sand making machine equipment has completed the production and commissioning work in the past few days, and it will be loaded and shipped today. , congratulations to this friend who can be put into production soon.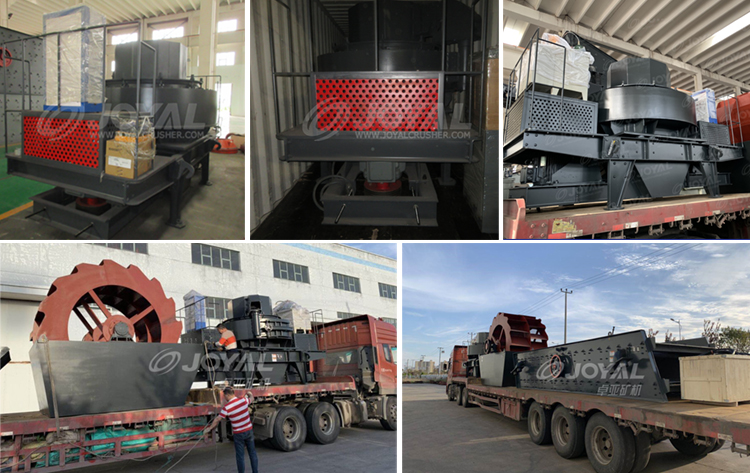 This 150t/h iron ore sand making production line is mainly completed by VSI-7611 sand making machine with a processing capacity of 120-180TPH, which is used for highways, high-speed railways, high-rise buildings, municipal engineering, hydropower Dam construction and concrete batching plants produce sand and gravel aggregates, which are equipment in the field of artificial sand making and stone shaping.
There is also an XSD3620 sand washing machine. The processing capacity of this sand washing machine is 60-150 tons per hour. The XSD series sand washing machine is a wheel-bucket sand washing equipment used in conjunction with the sand making machine. It can wash the mixed sand produced by the sand making machine to remove trace amounts of stone powder and impurities, thereby improving the quality of the sand. Mainly used for washing, grading and dehydration of quartz sand in sand and gravel factories, construction sites and glass factories.
Shanghai Joyal Mining Machinery Co., Ltd. is an enterprise engaged in the manufacture of mining machinery such as crushing and screening equipment, industrial grinding equipment, etc. Products are widely used in mining, building materials, chemicals, metallurgy, transportation, water conservancy and other industries. The products are not only sold in more than 20 domestic provinces, municipalities and autonomous regions, but also exported to dozens of countries and regions in Eastern Europe, Middle East, Africa, South Asia, Southeast Asia, West Asia, Australia, South America, North America and so on. Welcome to our factory to order all kinds of mining machinery.
Previous:
Shanghai Joyal tells you how to increase the output of raw meal vertical mill
Next:
Can you operate the ball mill correctly? Shanghai Joyal tells you the operation skills