Time: 2021-11-19
The three-ring micro-powder mill is a commonly used industrial milling equipment. In actual production, users usually care about the efficiency of the three-ring micro-powder mill. So, how to improve the production efficiency of three-ring micro-grinding?
The harder the material, the more difficult it is to process and the more serious the equipment wear. The speed of the three-ring micro-powder mill becomes slower and the efficiency will be reduced, so it is very important to choose the right material.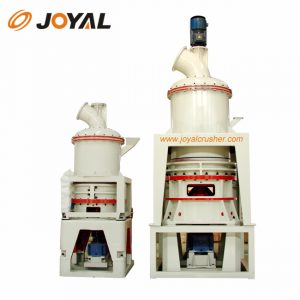 In the grinding chamber of the micro-powder mill, the grinding roller assembly is suspended on the grinding roller hanger through the cross arm shaft. The grinding roller hanger is fixedly connected with the main shaft and the blade holder. The pressure spring is tightly pressed against the grinding roller bearing by the tension rod. On the outer end of the cantilever of the chamber, with the cross arm shaft as the supporting point, the grinding roller is pressed tightly on the inner circular surface of the grinding ring by spring pressure. When the motor rotates through the transmission device, the blade mounted on the blade holder and The grinding roller rotates synchronously, and the grinding roller rotates around itself while rolling on the inner surface of the grinding ring. The analyzer of the micro-grinding mill drives the analyzer impeller to rotate through the motor transmission device, and the speed adjustment of the analyzer determines the fineness of the powder.
The ultra-fine powder mill is a grinding equipment with high grinding fineness. Therefore, under the same time and the same material, the output of the ultra-fine powder mill will be lower than that of other types of mill equipment. After all, fish and bear's paws cannot have both. When the three-ring medium-speed ultrafine mill production line is working, the main motor drives the main shaft and the turntable to rotate through the reducer. The roller pins on the edge of the turntable drive dozens of grinding rollers to roll in the grinding ring raceway. .
Previous:
How to maintain the mill to extend the service life
Next:
¿Elegirías un molino de bolas? Seco y mojado no elegirán aquí