Time: 2021-11-05
The fineness of 600 meshes belongs to the category of fine powder in the field of milling. The available mills mainly include: new Raymond mill, superfine mill, and three-ring medium-speed micro-powder mill.
Superfine grinding: It is mainly a vertical milling machine, which adopts the working principle of grinding rollers and discs for grinding. The ultra-fine vertical mill has high grinding efficiency and relatively large production capacity.
The new Raymond mill occupies a small area, has less environmental protection dust, high fineness of ultra-fine grinding, and low energy consumption of micro-grinding. We can make matching selections according to actual needs.
The three-ring medium-speed ultra-fine mill has more than double the output of jet mills, micro-powder mills, ball mills and other equipment with its high-efficiency technical characteristics. The product has high fineness comparable to ultra-fine mills.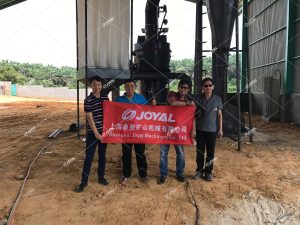 The pulverizer is one of the indispensable equipment for non-metallic ore grinding processing in the powder industry. Ultrafine mills are used in barite, calcite, potash feldspar, talc, marble, limestone, dolomite, fluorite, lime, activated clay, activated carbon, bentonite, kaolin, cement, phosphate rock, gypsum, glass, High-fine powder processing of more than 280 non-flammable and explosive materials with Mohs hardness not greater than 9.3 and humidity below 6% for thermal insulation materials.
The ultra-fine pulverizer produced by our Shanghai Joyal can arbitrarily adjust the fineness of the powder between 80-800 mesh, and the applicability is more flexible. Raymond pulverizer is the best choice for non-metallic mineral grinding.
Previous:
What are the requirements for the feed size of the Raymond mill
Next:
How to maintain the mill to extend the service life