6S Series Shaking Table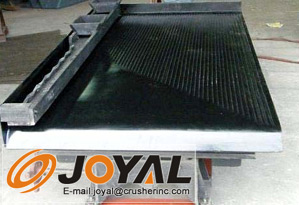 6S table floating concentrator is widely used for sorting tungsten ore. Its main function is desulfurization sorting the rough and concentrate mixture after tungsten ore gravity separating. (Such as rough concentrate sorted by jig and shaking table). Beneficiation particle size is ranging from 2mm to 0.074mm. The separating effect is especially for tungsten ore with a variety of sulfide minerals. It has the following advantages compared with the 6-S shaking table: it is easy to observe changes of slurry on shaking table; easy to operate; it has many different specifications for choosing.
It is proved by a large number of actual production data and feedback from the customer after-sales information that this table floating concentrator is simple operation in production process. The separation effect is especially prominent for tungsten mine including sulfur and other Sulfide Minerals. Secondly, its capacity is larger than 6-S shaking table. Its overall production costs are much lower than 6-S shaking table.
Technical data
| | | | | |
| --- | --- | --- | --- | --- |
| Specification model | 6S | 6S | 6S | 6S |
| Shaking table length (mm)×feed opening width×concentrate port width | 4500×1850×1560 | 3000×1620×1100 | 2100×1050×850 | 1100×500×430 |
Magnetic Separate Equipment
Flotation Equipment
Classifying Equipment
Gravity Separation Equipment
Accessory Equipment